ARIZONA | NEW MEXICO | UTAH | NEVADA | WYOMING | SONORA, MX
UTAH, NEVADA AND WYOMING ELK HUNTS
Nevada, Utah, and Wyoming Elk Hunts
Our trophy elk hunts in NV, UT, and WY are provided by a variety of Diamond Outfitters affiliate partners who are licensed, permitted and registered in each respective state. Your outfitter assignment will vary based on what animal and state you are hunting to ensure the Outfitter's expertise, experience, and local knowledge work in your favor. Each of our partner outfitters are highly respected professional guides and most of them are personal friends of ours. Legendary names like Josh Martoglio, Victor Trujillo, and Brett Guymon to name a few, are great partners and indicative of the type of talent available to our clients.
State license and application fees are non-refundable. Utah and Nevada charge the big game tag fees only after a successful draw. Upfront tag fees are required for WY draw tags. Refunds are typically sent out within 60 days if you are unsuccessful in the draw minus the application fee.
Included with NV, UT, and WY Hunts:
Fully Guided: Guides, lodging, meals (including non-alcoholic beverages and snacks), USFS, and/or BLM permits, State Land permits, all trophy fees, meat/trophy prep for taxidermist and butcher.
Semi-Guided: Same as fully guided but no meals or lodging.
Not included in either package: Gratuities (we recommend 15%-20% for guides based on your level of satisfaction and $25/ day for the camp cook), each state's licenses, big-game permit tag/s and the application fee of $45 per species, per person.
Nevada Elk Hunts
(Master Guide 1511509)
Nevada is consistently one of the top 2-3 states every year when it comes to producing giant bull elk. In fact, nearly every unit in Nevada has the potential to produce a 350 inch bull – and that is extremely special these days! Archery and muzzleloader elk hunts are during the peak of the rut and Nevada's firearm elk season comes later in the fall. Join us in Nevada's best elk country for a chance at the bull of your life. These Nevada elk hunts, regardless of season, are simply unforgettable and will find a spot alongside your best elk hunting memories!
Utah Elk Hunts
(Outfitter Registration 10753984-7500)
It's no secret that Utah is home to some of the largest bull elk in the country and we can't wait to show you some of our best spots! Join us amid millions of acres of largely public land in the state's most iconic elk units! Hunt dates for both archery and rifle seasons fall during the rut which dramatically increases your chance of an encounter with a trophy Utah bull. Since Utah manages their elk herd by age class, clients can expect to see a number of mature bulls during their hunt, regardless of season. We'll be targeting 6.5 year old bulls (and older) in excess of 330" during all of our Utah elk hunts. Larger bulls in the 350"+ range are typically available during the early seasons.
Wyoming Elk Hunts
(Outfitter Registration Number BG-019)
These classic Wyoming backcountry elk hunts take place in some of the most surreal and picturesque elk habitats you'll ever experience! In our opinion, Wyoming has struck a perfect balance between quality and quantity in their elk herd. Archery seasons are in September during the peak of the rut. Expect close calls and adrenaline-inducing encounters in the heart of Wyoming's premier elk units! Wyoming's firearm elk hunts take place in October. Often the bulls are still bugling which gives our clients a huge advantage!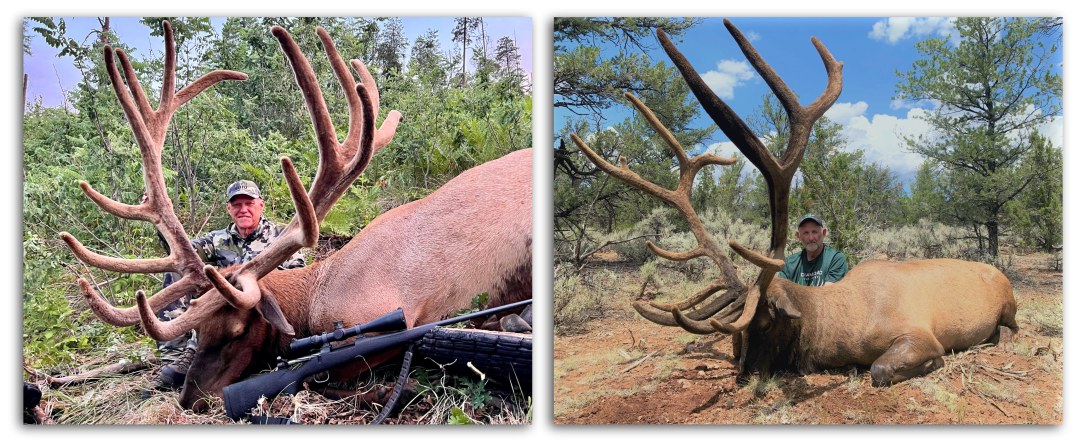 If you want to hunt for trophy bull elk with us–in any state, we strongly recommend joining Zero Outfitter Fees.
Still not convinced? Please check out our extensive list of references! Any of these hunters will be happy to jump on a call with you!
For more frequently asked questions, click here.
Get in touch to discuss your best elk hunt yet!
Veteran Owned and Operated

Dan Adler, Owner/Guide -Veteran USAF Officer and Command Pilot for the Yavapai County Sheriff's Office
Safari Club International - Arizona Chapter Hunter of the Year Many of our Guides are Veterans and First Responders.