ARIZONA | NEW MEXICO | COLORADO | SONORA, MX
GUIDED ELK HUNTS
ARIZONA, NEW MEXICO & COLORADO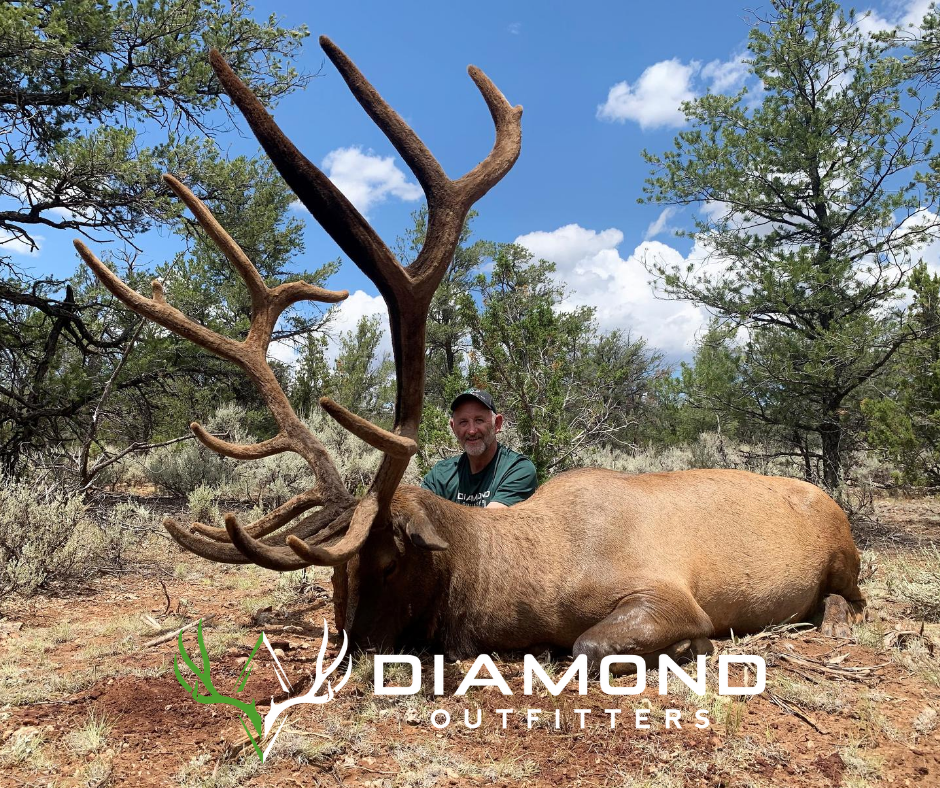 Bull Elk (Arizona Archery-September)
We are blessed and humbled to be able to say nobody successfully guides more elk hunters out West than Diamond Outfitters! This is arguably, the premier archery elk hunt in the world. Typically, our all-star full-time guide team is in bugling bulls creating life-altering close encounters for our hunters. If the rut is in full swing, it is not uncommon to stalk bulls all day, calling as needed. When appropriate, sitting wallows and water holes offer incredible success for our clients as well. We are very well known nationally and internationally for the success of our clients on the archery season. We are hunting trophy bulls on over 13.1 million acres of public and private land targeting 330′ and above bulls. Bulls from 340′-380′ plus are available in good moisture years in our premier units as you will see in our photo album and on our TV show. Hunts can be booked as 7, 10 or 14 days. Opportunity rates on trophy bulls exceed 95%.
Bull Elk (Arizona Early Rifle or Early Muzzleloader-Sept/Oct)
This hunt is the singularly most desired firearm/muzzleloader elk hunt on the planet. Every year we take a very limited number of hunters to maximize trophy potential. These hunts are offered as 7 day hunts. We are targeting bulls from 350′ and up in certain units. Harvest rates on this hunt are typically 100% year after year. In our best moisture years, bulls can even exceed 400' in our best areas! Here is a Best of the West episode of a Diamond Outfitters early rifle elk hunt:
Bull Elk (Arizona Late Rifle or Late Archery)
The late rifle and late archery hunts typically take place in November and early December. This hunt should not be overlooked as we have taken hundreds of giant bulls on these late hunts and the draw odds are absolutely incredible for the quality of bulls usually available. Rifle hunts are booked for 7 days. Archers can book 7, 10 or 14 days. We are targeting bulls from 300′-350′ and larger bulls may be available in our top areas when conditions are right. Opportunity rates are typically 100% on these hunts.
Here are a couple Best of the West episodes of this type of hunt with Diamond Outfitters:
Bull Elk (New Mexico Private Land/Land Owner Tags)
We have several private ranches in New Mexico scattered throughout the state in varying sizes. These ranches are hand-selected by our Outfitter after extensive research and planning meetings. The hunts require NO DRAW and are sold first-come, first-served. Hunt dates for archers is typically Sept 1-15 and 16-24, while firearms hunts take place in October. On some ranches, elk season is Oct 1-Dec 31st offering our clients incredible flexibility. Bulls on the smaller ranches range average 240′-300′ with a chance at up to 320′ class bulls on good moisture years. On our premier unit-wide elk hunts (landowner tag-no draw required) in September and October bulls from 320′-350′ plus are the target and bulls over 370′ are taken occasionally in these units.
Bull Elk (New Mexico Draw Tags)
Our guided New Mexico draw clients are applied in a special guide/outfitter applicant pool that gives you nearly double the draw odds of a non-guided client. Of course, our in-house application concierge service takes care of your applications. Like landowner tags, there are two September archery seasons and three October firearms seasons. The archery and early October hunts (often the muzzleloader season) provide the most exciting bugling season, but mid-October rifle hunts still have some leftover rut activity to enjoy and hunt. Archers and firearms hunters in the top trophy units will be hunting 300′-350′ plus bulls while some of the easier to draw hunts provide opportunity to hunt bulls in the 250′-300′ class with a few 320′ bulls around and often more elk numbers.
Bull Elk (Colorado Private Land)
If you are looking for a fun, budget-friendly elk hunt on private land, you have found it! Our Colorado elk hunts take place on private land in southwest CO and also on exclusive guide use (meaning no other outfitters can guide on it) BLM land. Archers and muzzleloader hunters get to hunt during the September rut while rifle hunters have ample opportunity in October and November. These elk hunts provide high opportunity at bulls scoring 200′-300′ and in a good moisture year some bigger bulls will be lurking around.
Cow Elk (Arizona or New Mexico)
Cow elk hunts are a lot of fun and a great way to fill the freezer. Cow tags are fairly easy to come by in AZ, guaranteed in NM. Archery hunts take place during the rut and are very exciting and fast paced. Rifle hunts take place in October, November or December when the elk are in large herds on winter range. Opportunity and harvest rates are 100% historically. A great hunt for all experience levels.
Veteran Owned and Operated

Dan Adler, Owner/Guide – Veteran Captain of USAF
Many of our Guides are Veterans and First Responders.