ARIZONA | NEW MEXICO | UTAH | NEVADA | WYOMING | SONORA, MX
GUIDED ELK HUNTS
ARIZONA, NEW MEXICO, UTAH, NEVADA, WYOMING
Guided Elk Hunts
We are blessed and humbled to have successfully guided more elk hunters out West than any other outfitter. In fact, We are the only outfitter with two bulls represented in the Top Ten all-time record book! Our top bull in company history is "Turkey Foot" (2023) at just over 458 inches (gross) and "Waldo" (2021) at just over 440 inches (gross)!
Our Team offers full service guided and outfitted elk hunts in five states. We only hunt areas that provide superior age and genetic potential, generally targeting 330"+ bulls throughout the west. Bulls from 340"-380" plus are available during high moisture years in our premier units as seen in our photo album, on our social media, and our TV show. With both draw and private land opportunities available in five of the nation's best elk states, there's always a place for you with us in elk country!
Depending on the season and state, elk hunts can be booked as 5, 7, 10, or 14 day trips.
Click one of the options below to learn about our guided elk hunts in each of the five states we serve, then contact us to plan your trip! Let's start making memories today!
If you want to hunt for trophy bull elk with us–in any state, we strongly recommend joining Zero Outfitter Fees.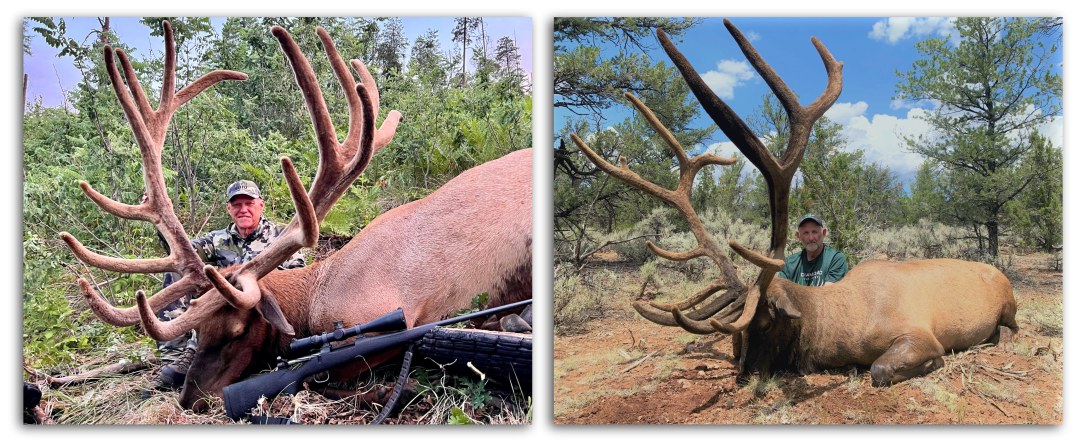 Veteran Owned and Operated

Dan Adler, Owner/Guide -Veteran USAF Officer and Command Pilot for the Yavapai County Sheriff's Office
Safari Club International - Arizona Chapter Hunter of the Year Many of our Guides are Veterans and First Responders.