ARIZONA | NEW MEXICO | UTAH | NEVADA | WYOMING | SONORA, MX
Arizona Elk Hunts
(Guide License SP758745)
We offer guided elk hunts in most Arizona elk units across 13.1 million acres of public and private land. You'll have peace of mind knowing that our full time elk guides are in the field year round to ensure you'll have opportunities at mature bulls during any Arizona elk hunt. In fact…there's a good chance we've got a history with the bulls we'll encounter during your hunt.
Regardless of which Arizona elk season you would like to experience, our in-house application team will do all of your draw paperwork for you. Multiple clients draw AZ dream tags every year the very first time they apply through us!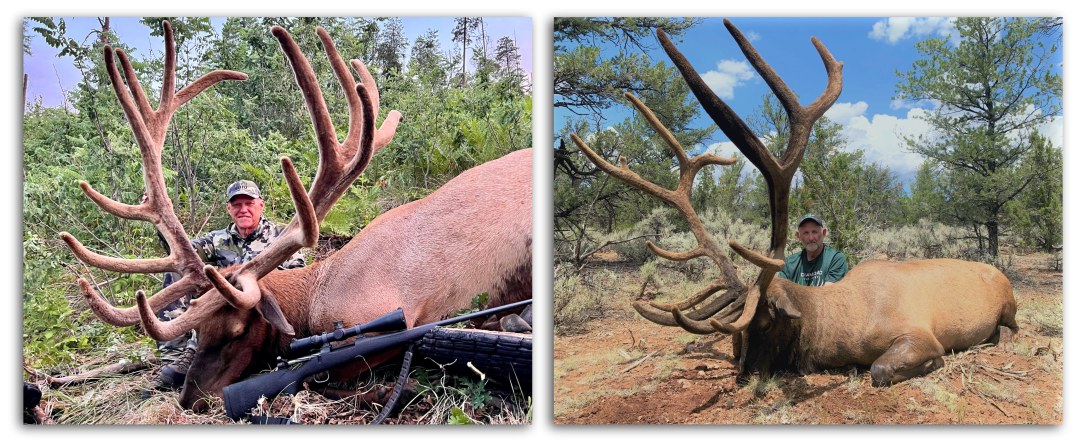 Arizona Early Archery Bull Hunts
Arizona's early archery bull hunt is arguably the premier archery elk hunt in the world! Dreams are made here every September and we would love a chance to help you achieve yours! If the rut is in full swing during your hunt, it is not uncommon to encounter bulls all day long, calling as needed to capitalize on opportunities. When appropriate, sitting wallows and water holes offer incredible success for our clients as well.
Arizona early archery bull hunts can be booked for 7, 10 or 14 days.
We are internationally known for the success of our clients during Arizona's early archery elk season. Our full-time Arizona elk guides live for creating life altering encounters amid bugling bulls and picturesque Arizona elk country. Contact us to start making memories…We would be honored to play a part in the best elk hunt of your life!
Arizona Early Rifle and Muzzleloader Hunts
Arizona's early rifle and muzzleloader seasons are without question the most desired firearm/muzzleloader elk hunts on the planet! To maximize trophy potential during these coveted Arizona early season elk hunts, we take a very limited number of hunters each year. This allows us to focus on the giant elk Arizona is known for. The elk will be rutting heavily during these hunts and mature bulls should be very active and vocal. This allows us to target big, mature, 350"+ bulls in certain units. During high moisture years, bulls can even exceed 400" in our best areas!
All guided early season rifle and muzzleloader elk hunts are booked for the entire 7-day season.
For a taste of Arizona's early rifle elk season, check out our video section or the exciting elk hunting videos 
Arizona Late Season Archery Elk
Late season archery elk hunts are the easiest elk hunts to draw in Arizona. Although these late archery hunts may be seen as the most challenging of Arizona's elk hunts, they'll definitely be remembered as one of the most rewarding hunts of your life! We will employ a variety of tactics to put you on mature bulls amid Arizona's picturesque late season elk country!
Archers can book late season hunts for 7, 10 or 14 days. Our client opportunity rate is typically over 80% with over 70% harvest success!
Arizona Late Season Rifle Elk Hunts
There are several late season rifle elk hunts in AZ that offer a great balance of draw rate and trophy quality. Hunters can expect lots of glassing, potentially long shots, and some occasional winter weather in the ruggedly scenic areas where mature bulls live after the rut. We'll be targeting mature bulls in the 300"-350" range, although larger animals may be available in our top areas when conditions are right.
We book all Arizona late rifle elk hunts for seven days.
If you want to hunt for trophy bull elk with us–in any state, we strongly recommend joining Zero Outfitter Fees.
Still not convinced? Please check out our extensive list of references! Any of these hunters will be happy to jump on a call with you!
For more frequently asked questions, click here.
Get in touch to discuss your best elk hunt yet!
Veteran Owned and Operated

Dan Adler, Owner/Guide -Veteran USAF Officer and Command Pilot for the Yavapai County Sheriff's Office
Safari Club International - Arizona Chapter Hunter of the Year Many of our Guides are Veterans and First Responders.