ARIZONA | NEW MEXICO | UTAH | NEVADA | WYOMING | SONORA, MX
black BEAR
ARIZONA GUIDED BEAR HUNTS
Arizona Guided Black Bear Hunts
Arizona's black bears are secretive by nature and inhabit some of the most rugged, remote, and beautiful country in the state. No other state offers more color phase bears per-capita than Arizona and long OTC bear seasons make the Grand Canyon State one of the top bear hunting destinations out west! We offer clients two types of guided black bear hunts in Arizona and our experienced guides kill record book bears using each tactic. In fact, our success rate on BIG color-phase bears is unmatched anywhere in North America.
Hunters can choose between a spot-and-stalk style hunt or a traditional hunt behind trained hounds. During a guided spot and stalk style bear hunt, clients can expect long glassing sessions for monster bruins before navigating through the rugged landscape to get in position for a shot. Or Clients can choose a guided bear hunt behind trained hounds. You'll follow Arizona's most tenacious pack of bear hounds into remote canyons in search of your trophy. Depending on the hunt location and your desired experience, we might hunt on foot, with a side-by-side, or off of mules–your choice!
Whether you choose to hunt bears behind hounds, or prefer glassing for bears, your hunting experience with Diamond Outfitters will lead you on an adrenaline charged adventure in Arizona's ruggedly scenic bear country. Get in touch…Let's plan future memories, today!
Arizona's OTC Bear Seasons
We offer guided bear hunts during all of Arizona's OTC bear seasons (Spring and Fall), however the use of dogs is prohibited during the spring hunt. Our crews, regardless of season or hunt style, are considered Arizona's most driven and successful bear guides. Many of our guides live in small towns amid Arizona's most productive bear country. Experience gives them the upper hand and our clients benefit from their close connection to the areas we hunt. If you're looking for a first class Arizona bear hunting experience, you've found it with any of our adrenaline filled OTC hunt options. It's up to you to choose your adventure.
Arizona's fall bear hunts are one of our most popular over the counter options and clients can choose between glassing or pursuit with hounds. There are two distinct OTC bear seasons in August and September, plus a later season during October and November that is just as incredible and productive. Any fall bear hunt in Arizona could lead you on an adventure that culminates with killing the biggest bear of your life.
Tags for most of Arizona's spring bear hunts are also available over the counter. We've killed some of our biggest boars during Arizona's spring bear season and our success rate is historically very high during these early season bear hunts. These hunts are a great option for anyone that wants a quiet spot and stalk style hunt in Arizona's high-country with the chance at a monster bear. The privacy and serenity are top-notch during spring bear hunts!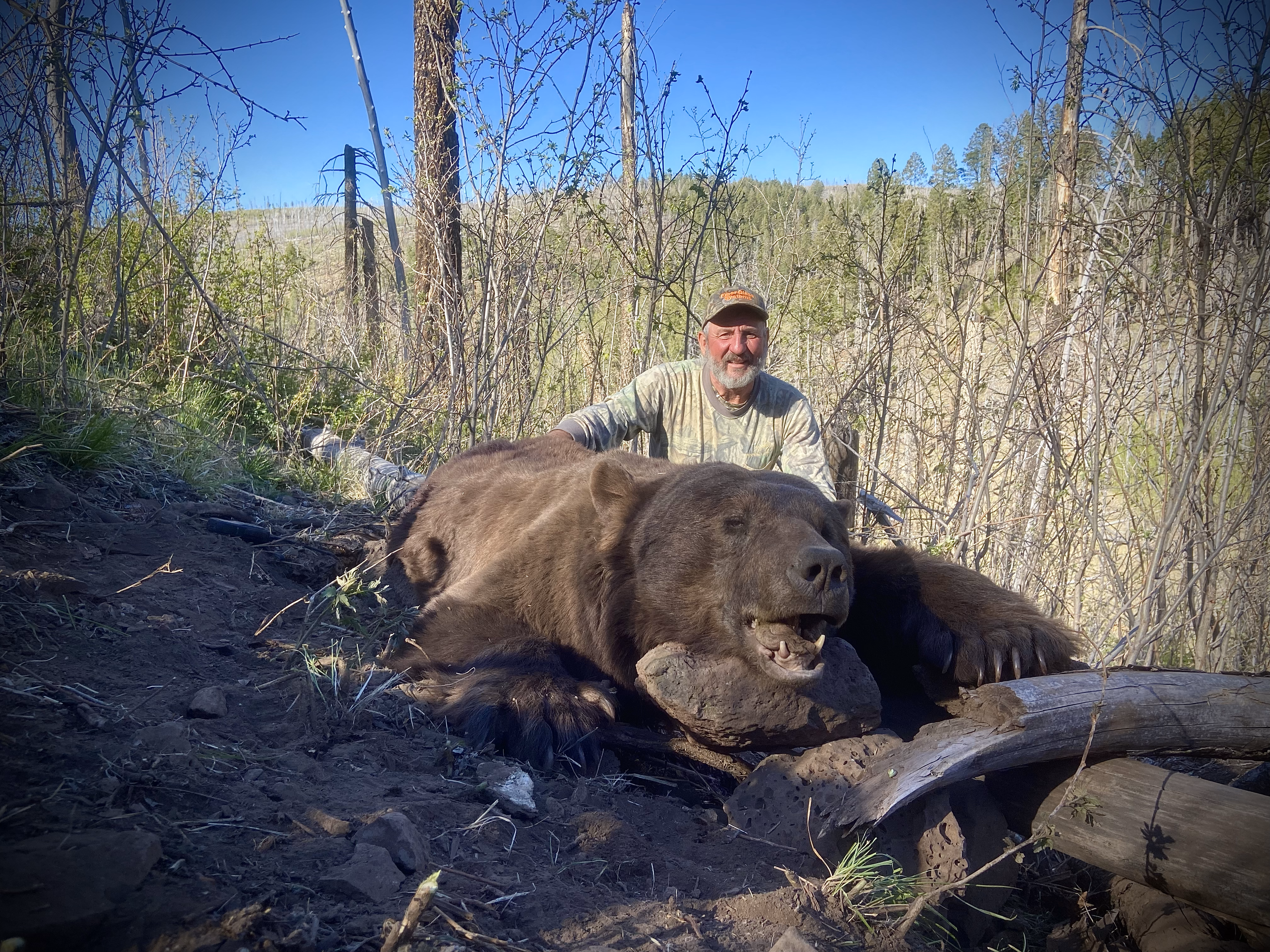 Guided Spot and Stalk Bear Hunts
A spot and stalk bear hunt generally entails getting to a vantage point and glassing for bears as they exploit food sources or move from the food source to their daytime bedding areas. It's not uncommon to see numerous bears in a single canyon during your spot and stalk Arizona bear hunt. The scenery is breathtaking from the glassing vistas and our full-time bear hunting guides know Arizona bear country no like one else.
It's always such a rush of adrenaline when someone abruptly says "got a bear" while they're glassing, and you know it could be "go time" very soon! Sometimes bears will be glassed up within rifle range of your first position, but usually we must get closer to the bear for a good shot. A flat-shooting rifle and confidence behind it come in quite handy. We like 7mm, 7PRC, 300WSM, 300 WIN, 300 PRC and other similar calibers for big boars in big Arizona bear country.
Bear Hunting with Hounds (Or Bear/Lion Combo)
It's no secret that bear hunting with hounds is an exhilarating experience! There's just something special about watching Arizona's best bear hunting dogs work for you at the hand of a seasoned bear hunting guide. You will follow dogs on foot, via 4×4 vehicle, or on gentle mules leading you on an unforgettable adventure amid Arizona's most awe-inspiring bear country! More often than not, a big Arizona bruin will be waiting for you surrounded by a pack of tough bear hounds that love what they do.
On select premium dates, a bear/lion combo hunt will become available and is an incredible option for our clients. Follow us on Facebook or Instagram to stay in the loop and find out about combo hunt openings.
We live for big country and big bears…AZ bear hunts are by far our most popular OTC hunts, and with a nearly 100% success rate, it's easy to see why!
Get in touch, and have the time of your life with us in Arizona bear country!
Veteran Owned and Operated

Dan Adler, Owner/Guide -Veteran USAF Officer and Command Pilot for the Yavapai County Sheriff's Office
Safari Club International - Arizona Chapter Hunter of the Year Many of our Guides are Veterans and First Responders.