ARIZONA | NEW MEXICO | UTAH | NEVADA | WYOMING | SONORA, MX
New Mexico Elk Hunts
(Outfitter Registration 4576)
We offer guided elk hunts in New Mexico on both public and private land under the leadership and permits of Borderland Adventures LLC who merged with Diamond Outfitters in 2019. Clients can hunt big NM bulls by either drawing a tag, or choosing to hunt one of our several ranches with a New Mexico landowner tag. We love spending time in New Mexico Elk country and can't wait to show you a great time hunting big bull elk in some of our favorite spots. Explore a variety of exciting New Mexico elk hunting opportunities below, then contact us to book your trip!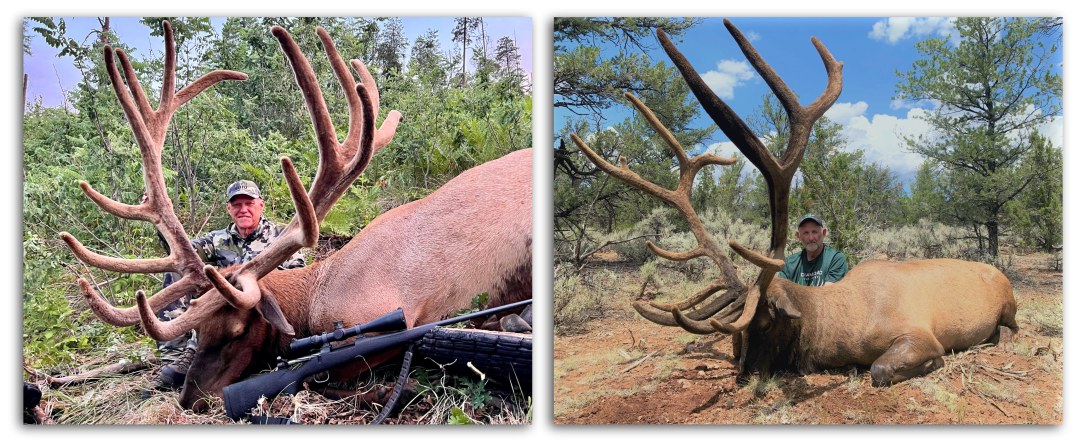 New Mexico Private Land Elk Hunts
Our New Mexico elk ranches are hand-selected by the Outfitter after an extensive research and planning process. These private land elk hunts are available throughout New Mexico, require NO DRAW, and are sold on a first-come, first-served basis. We also offer premier unit-wide elk hunts during the rut that require a landowner tag and, NO DRAW! We target bulls in the 300"-350" range on all private land elk hunts in New Mexico, and bulls over 370" are taken occasionally in these units.
Hunt dates for archers are typically Sept 1-14 and 15-24, while firearms hunts take place in October. On some private ranches, elk season is Oct 1-Dec 31st offering our clients increased flexibility.
New Mexico Elk Draw Hunts
New Mexico elk tags are distributed in a unique fashion because they don't use a bonus point system. Everyone's odds of drawing are equal! Essentially, you have one name in the "hat" just like everyone else in a random draw. As an added benefit to clients, our in-house application service will apply you for the right hunts to maximize your chances of drawing a New Mexico elk tag and killing a mature bull. We know which tag you need to draw, and we know where the mature bulls live in that unit. All of our New Mexico draw clients during every archery, rifle and muzzleloader season will be hunting areas that consistently produce 300-350+ inch bulls.
There are two September archery elk seasons and three October firearms elk seasons in New Mexico. The archery and early October hunts (often the muzzleloader season) provide the most exciting bugling and rut action, but mid-October rifle hunts still have some leftover rut activity to enjoy while increasing your chance of success with a mature New Mexico bull elk! Join us in New Mexico Elk Country…There's plenty of options to get you in the elk woods this year!
If you want to hunt for trophy bull elk with us–in any state, we strongly recommend joining Zero Outfitter Fees.
Still not convinced? Please check out our extensive list of references! Any of these hunters will be happy to jump on a call with you!
For more frequently asked questions, click here.
Get in touch to discuss your best elk hunt yet!
Veteran Owned and Operated

Dan Adler, Owner/Guide -Veteran USAF Officer and Command Pilot for the Yavapai County Sheriff's Office
Safari Club International - Arizona Chapter Hunter of the Year Many of our Guides are Veterans and First Responders.